Our Story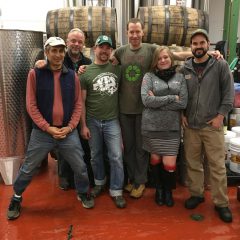 Artisan Beverage Cooperative was founded in 2013 by the owners of Katalyst Kombucha LLC and Green River Ambrosia LLC. Katalyst Kombucha had been producing kombucha teas since 2005 in Greenfield, Massachusetts, and Green River Ambrosia began producing meads and Ginger Libation at the Katalyst brewery in 2007. After a few years of working together, the owners decided to merge the companies and convert the two businesses into a worker-owned cooperative. Both Katalyst Kombucha and Green River Ambrosia were founded on strong missions to promote environmental stewardship, democratic governance, sustainable agriculture, and building a strong local economy. As each company developed independently it became clear that by fully joining forces the mission of each company could be fulfilled more effectively and all of the operations could become much more efficient.
We decided to pursue the idea of creating a worker-owned cooperative, and spent over a year of research, development, consultation, and strategic planning in order to create a structure that we think is built to last and maintain our core values as we continue to grow the company. Many friends along the way helped us to make this a reality and we are very happy to be a part of the greater Cooperative Economy!
The Cooperative's mission is to produce the highest quality beverages possible taking into account the social and economic impacts of all decisions of the cooperative, and to demonstrate, through our success, the viability of worker cooperatives and fairly traded goods.
Our Guiding Principles are to:
Trade directly with local farmers when possible and purchase internationally from democratically-organized small farmer cooperatives
Pay producers a price that provides them with a stable income enabling them  to invest in their communities.
Provide high-quality products
Support sustainable farming practices
Build a democratically-run cooperative workplace
Develop more environmentally sound business practices
Our Worker-Owners
Garth Shaneyfelt
General Manager/Treasurer
Neuroscientist, long-time home-brewer, biker, gardener, runner, outdoorsman, and un-repentent schemer finally broke free from his 15 years in the tech world to focus on building the local and cooperative economy. One of the original founders of Green River Ambrosia, Garth now applies his leadership and finance skills as the General Manager of Artisan Beverage Cooperative.
Will Savitri
Operations Manager/President
Will grew up in Worcester, Massachusetts and attended U-Mass Amherst where he received a bachelors degree from the BDIC program in Sustainable Agriculture and Holistic Health. He worked in the food industry for several years managing food service programs focused on holistic health and organic agriculture. He was an original founder of Katalyst Kombucha in 2005 and has been a leader of the company since the foundation. Will has always enjoyed tinkering with tools and equipment, and his mechanical abilities have contributed greatly over the years at the brewery. Will is a driving force at ABC and is constantly planning the growth, strategizing the future, and fixing things that break. His personal interests include biking, climbing, gardening, yoga, personal development, and building deep relationships with individuals and the greater community. He lives in Greenfield, MA, with his wife Kelly, son Sage, and dog Selu.
Jeffrey Canter
Office Manager/Secretary
Jeff grew up in a suburb of Boston, Massachusetts, in the 1970s. He attended Northeastern University, graduating in 1982 with a BS in Pharmacy. After working in pharmacies for 15 years, Jeff had an epiphany, which led to selling his house, quitting his job and traveling on a path of discovery and awaking ever since. He completed Kripalu Center for Yoga 200-hour yoga teacher training and became a certified Thai Massage Practitioner with Ken Nelson. He is a member of the Appalachian Mountain Club.
"I enjoy walking in the woods. Biking, hiking, gardening, cross-country skiing, contra dancing, cooking, baking, and poetry. Doing things that bring me joy and opens my heart-mind to the possible. I'm interested in building a more fair, sustainable and connected world with all people having free access to clean water, healthy food and safe affordable housing."
Sandy Pearson
Sales Manager
Sandy was an early investor in Katalyst Kombucha. He is very passionate about our all our work at Artisan Beverage Coop and is truly an ambassador for our brewery. Sandy lives in Hadley and is a lover of our local farm economy. He enjoys gardening and raises goats, chickens and geese on his small farm. He is the former owner of Springfield advertising company and has served on various community agency boards including Western MA Food Bank, WFCR Foundation Board, and Community Foundation of Western Massachusetts. He plays jazz guitar, and likes to bike, hike and ski.
Dave Keramaty
Production Manager
Dave came to Katalyst Kombucha in 2011 to fill the role of assistant brewer. Dave has a management degree from Bentley University and had spent his previous years working in the beer brewing industry and information technologies field. Dave is passionate about supporting local food systems, making good beverages and throwing good parties.